Thought I would share this nice poem that Daddy Jun got after all the fathers were blessed in Greenbelt Chapel....
FATHERS ARE WONDERFUL PEOPLE

Fathers are wonderful people, too little understood,
And we do not sing their praises, as often as we should,
For Father struggles daily, to live up to his image
As protector and provider, and hero of the scrimmage,
And perhaps that is the reason, we sometimes get this notion
That fathers are not subject, to the thing we call emotion.
But if you look inside Dad's heart, where no one else can see,
You'll find he's sentimental, and soft as he can be.
Fathers are just wonderful people, in a million different ways,
and they merit loving compliments, and accolades of praise.
For the only reason Dad aspires, to fortune and success
Is to make the family proud of him, and bring them happiness.
And like our Heavenly father, he's guardian and a guide,
Someone we can count on, to be always on our side.
Lloyd and his family slept at our place last night. Our family went to a relative's wedding in Cavite the night before. Today, we thought of celebrating his first Father's Day at Glorietta. We had treated them to lunch and went to hear the 3pm mass at Greenbelt Chapel.


Rap and Daddy outside the chapel.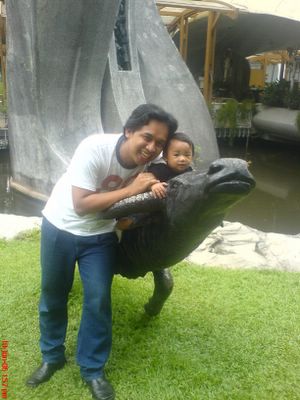 Lloyd and my nephew, Clyde


I was quite teary-eyed while the fathers were being blessed this afternoon. I thank God that my husband has become the father that I have prayed for: responsible, thoughtful, sensitive, loving, and a good provider. This has been my childhood wish. I grew up seeing my father being the laughing stock of my mother's relatives. They call him names, they think of him as tamad. Yes, he was in and out of work. My mother became the breadwinner of the family, and even some of my father's relatives to school. Yet, those shortcomings are nothing compared to what he really is, deep inside. Being at home most of the time, he took care of our needs. He washed the laundry, cooked our baon, brought us to the pedia, brought us to and fetched us from school, tutored us, shared hilarious stories to us... the list can go on forever. As the poem above goes, he's a wonderful person, too little understood. I love him, though I wouldn't show it. I try to do so sometimes. But growing up in a family where hugging and saying I love you's are a no-no, it's kind of hard for me. Wish I can before time runs out.